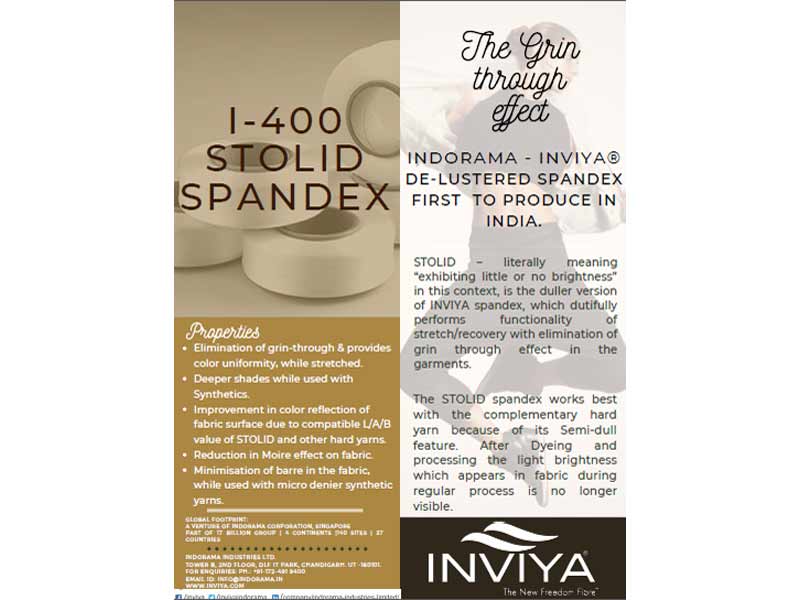 Spandex has become integral part of modern day clothing among young population all over the world.
Indian demographics having a low median age has been embracing spandex with open arms and Indian industry has been registering annual growth of over 9% since past 10 years. This trend is expected to continue with new living and working norms, induced by COVID-19.
INVIYA®, which started it's journey as spandex brand of first company in Indian subcontinent already offers different kind of spandex to meet the functional requirements of garments, which has been thoughtfully crafted after interaction with wide range of stakeholders & users.
The diverse choices of fashion & lifestyle, which are unique for each individual has been a motivating force for us to offer something unique and valuable to clothing fraternity. INVIYA® is pleased to launch STOLID variant of proprietary I-400 polymer, which is being produced at it's manufacturing facility at Baddi, Himachal Pradesh.
Optically alluring- yet invisible, light weight – yet imparting excellent recovery & dimensional stability, contemporary- yet fits like second skin, INVIYA®- STOLID is all set to revolutionize the sheer hosiery, intimate apparels, compression wear segments in your wardrobe collection.
STOLID – literally meaning "exhibiting little or no brightness" in this context, is the duller version of INVIYA® spandex, which dutifully performs functionality of stretch/recovery with elimination of grin through effect in the garments.
Grin through effect – PrintWiki defines it "a decrease in colour strength of printed textiles caused by a stretching of the fabric surface, resulting in the unprinted fibers showing though the printed image".
Grin through has been an area of concern for clothing & fashion industry, while they had to deal with deeper shades including dope dyed polyester/nylon as hard yarns, when industry used brighter spandex for this kind of fabric, as available with most of the spandex producers.
Indorama has addressed this concern by modification of it's polymer and rendered the properties of dullness in it and crafted duller version, INVIYA® STOLID.
Currently this is produced in finer denier products like 20/30 and 40 Denier for knits application.
The value derivative of STOLID for supply chain and end customers would be
Elimination of grin-through & color uniformity, while stretched.

Deeper shades while used with Synthetics.

Improvement in color reflection of fabric surface due to compatible L/A/B value of STOLID and other hard yarns.

Reduction in Moire effect on fabric

Minimisation of barre in the fabric, while used with micro denier synthetic yarns.
These prepositions of STOLID can be best exploited in
Yoga Wear

Sheer Hosiery

Intimate Apparel

Compression garments

Cycling gear

Beachwear
INVIYA® STOLID is variant of INVIYA®'s I-400 and this proprietary polymer has high power, which leads to lasting fit & shape retention, it is resistant to heat & dyes with Polyester at 130 degrees. Apart from this, this is chlorine resistant making it suitable for swim wear/beach wear.
INVIYA® STOLID is available with Indorama Industries Limited with extremely dependable technical assistance & support for product development to meet requirements of end customers based on trends of fashion and lifestyle.
Indorama invites clothing/textile fraternity to reap benefits of STOLID variant of INVIYA® and provide delightful experience to end customers for their fashion & lifestyle requirements.