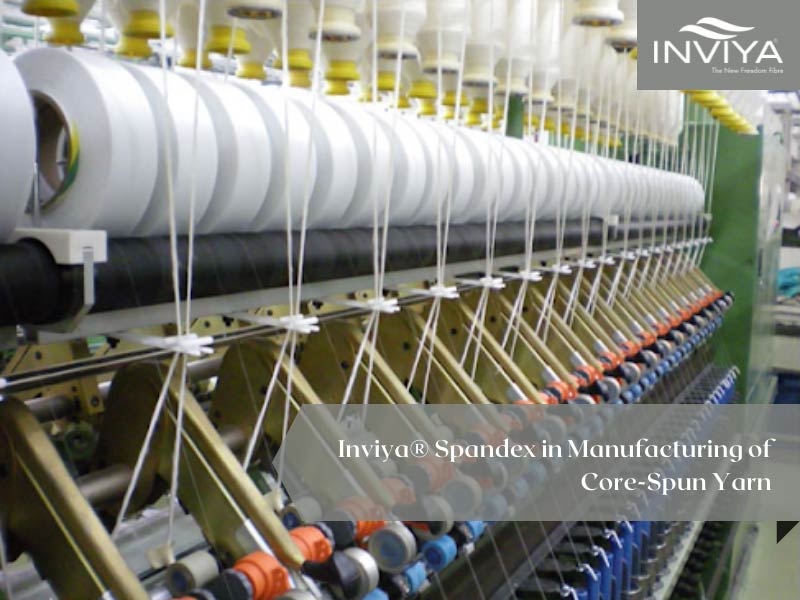 With day-to-day advancements in apparel and textile technology, the core-spun yarn has been catching attention for a while now. They comprise a continuous filament core and a spun yarn sheath over the yarn core. The yarn in core is usually spandex. Core spun yarns impart sought-after properties such as improved strength and elasticity, durability, and high abrasion resistance to the fabric. Quality and functionality of added spandex influence crucial factors while manufacturing and using the core-spun yarn.
We, at Inviya, manufacture I-400, 4th generation spandex that is suitable for core-spinning applications, and these properties of it imply the same:
It shows excellent performance at different running drafts.

The spools of our

spandex

run uniformly and also maintain a controlled lapping behavior during spinning.

Owing to its high breakage resistance, it also increases the efficiency of the ring frame.

It has high heat resistance that facilitates undergoing various temperatures during production.

Once the finished fabric is ready, its stretch and recovery properties keep adding to the garment's life even after several uses and washes.
A core-spun yarn can have multiple purposes for adding it to the fabric. Here are some properties that INVIYA 4th Generation Spandex impacts:
Adds to Strength and Breakage Resistance: The core of a core-spun yarn determines its durability. Durability is a looked-after property because they undergo various processes that involve contact with metals and other objects that might weaken the molecular forces or even tear the yarn apart. INVIYA Spandex has high strength, breakage resistance, and high resistance to chemicals, and it imparts the same to the core-spun yarn.

Adds to stretchability: Spandex is known for its highly stretchable nature. The incorporation of core-spun yarns adds to the strength and stretchability of the fabric. The better the stretch properties, the more it is looked after. Our spandex has high stretch power that it retains even after multiple processes such as dyeing and rigorous washing.

Adds to Shape Recovery: Since spandex stretches swiftly, it is equally crucial for it to gain its shape back after completing an action, and the movement of the body part is back to its original position. One of the active uses of core-spun yarns is denim, and we all love a comfortable pair of jeans that do not bulge around the knees. INVIYA 4th Generation Spandex recovers actively and keeps the garments in their original fit for longer.

Adds to Wicking Properties: Wicking refers to the transportation of moisture in the fabric. We all know the discomfort of wearing a garment that does not absorb and transports perspiration in humid weather. For that, our spandex comes to your rescue. It adds to the wicking properties of the core-spun yarn so that a wrong choice of spandex does not interfere with absolute comfort.
These were a few significant properties that INVIYA I-400, 4th Generation Spandex, adds to core-spun yarns for better properties and experience.