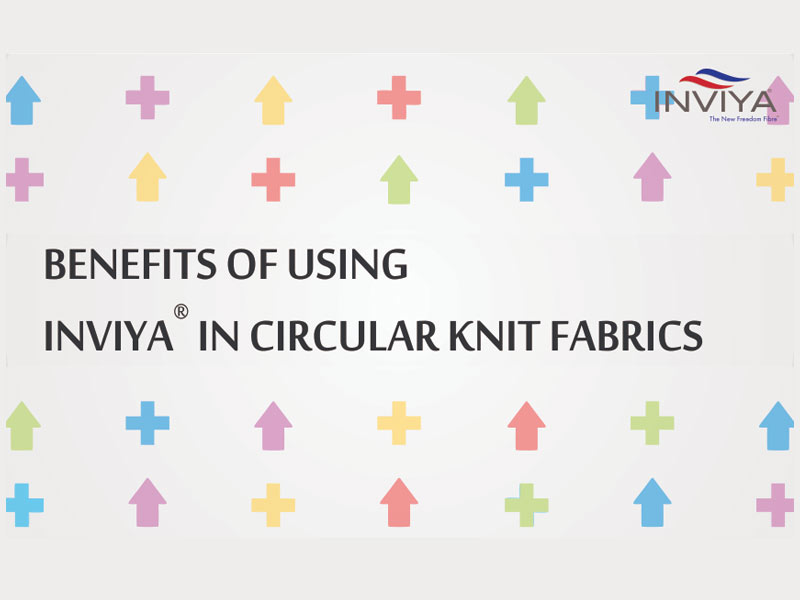 Circular knit fabric with INVIYA® can be used in a varied range of clothing from fashion wear to active wear / athleisure. The prime requirements of fabrics for these garments are: comfort, recovery, stretch, strength – and these are the qualities which define INVIYA®.
To make this possible INVIYA® is made into an adaptable yarn which is suitable for making different types of circular knit fabrics.
This is done by using INVIYA® on various makes of circular knit machines as per the requirement. INVIYA® can be used on all available machines by using various attachments and feeders, which are readily available in market.
The process of making a long lasting and comfortable knit fabric starts when, INVIYA® – a bare spandex filament yarn is introduced in the circular knitting machine during the process of circular knitting through the spandex feeding mechanism along with the hard yarn (which can be cotton, polyester, nylon or blend of the mentioned fibers) at a pre-determined levels of draft.
After this step the circular machine completes the process of knitting (discussed earlier) and thus a high quality, high stretch, high recovery and comfortable knit fabric is produced.
Various properties of INVIYA® helps it to be perfect fit for the Circular Knitting, which are:
1. INVIYA® has high stretch-ability and good tensile strength, thus can work on higher drafts on the circular knit machine
2. INVIYA® can run smoothly at an unwinding speed upto 90m/min, thus helping knitting machine to achieve its efficiency
3. INVIYA® has suitable modulus to aid knitted fabric in maintaining the required pressure of fabric on body while it's use over a long period
4. INVIYA® is resistant to heat thus providing knitted fabric an advantage where they can be subjected to processes which require high heat treatments without the concern of damaging the fabric or the spandex in the fabric
5. Resistance to chlorine/bleach and alkali/acids provides knitted fabrics with INVIYA® an added advantage as they can easily withstand the chemical and dyeing processes which are used to apply different finishes/ aesthetics as required
6. The most common deniers used for Circular knitting are 20D, 30D and 40D which are readily available with INVIYA®
To inquire about 20D, 30D, 40D and 70D – write to us at info@indorama.in