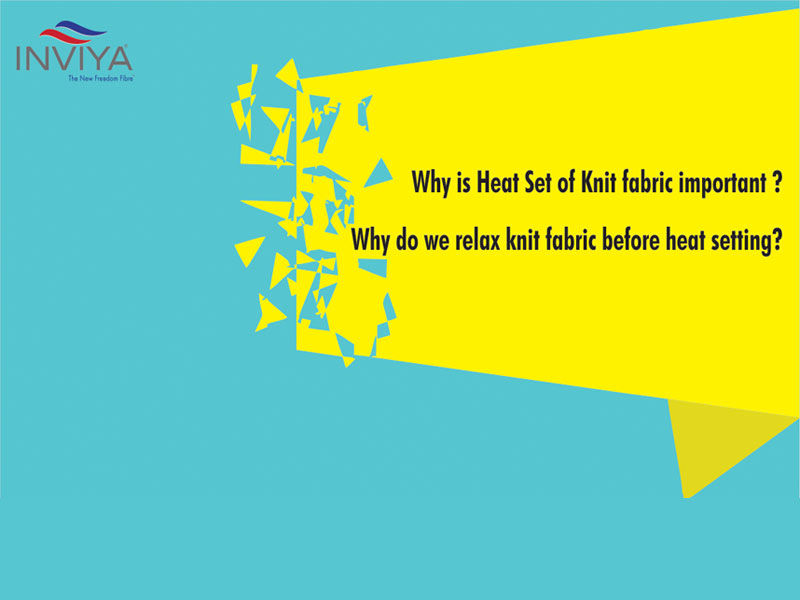 Why Heat Set is important?
INVIYA® spandex is always fed in to the fabric at high draft. Because of the high draft, the fabric always tries to relax to its original length. During different wet processing stages, it becomes very bulky by relaxation and causes various processing defects. To avoid such defects, it is desired to heat set the fabric prior to Wet Processing.
1. Heat Set process sets the fabric to a new width where it become stable and would not be able to relax further below the heat set width (with in a definite tolerance)
2. The new width is set by raising the temperature of heat set media to the glass transition temperature of the INVIYA® spandex by passing the fabric at the desired width through the heat media this process is called Heat Setting
3. For open width fabrics, heat setting is done through Stenters. Special machines are available to heat set tubular knitted fabrics. Heat Set of CK fabric can be done in 2 ways:
1. Circular frame tubular Heat Set
2. Stenter Heat Set in open width form
Now a days Knitting of CK fabric with spandex is done in open width form.
Hence Stenter heat set is most common type of Heat Set.
Why relaxation of fabric before Heat Set is important?
1. Knitted fabrics because of its intermesh of loops already have stretchability. By adding INVIYA® spandex, it tends to relax even further the moment it is allowed, thus having better recovery
2. As the degree of relaxation of a fabric varies due to different conditions of handling of fabric, there is always a possibility of uneven distribution of mass on a knitted fabric prior to heat setting.
3. As the fabric enters the heat setting media with the uneven mass distribution, it also comes out after heat set with the same level of unevenness. This causes the GSM variation in a knitted fabric even after finishing
4. Hence it becomes essential to make the fabric even before allowing the fabric to heat set. This is possible by relaxing the fabric to maximum possible extent
5. Following are the relaxation methods can be followed for a knitted fabric with INVIYA® spandex:
a. Relaxation on a steam table
b. Relaxation through pad-relax dry method
c. Relaxation through soft-flow washing and relax dry method
Click here to get in touch with Inviya.