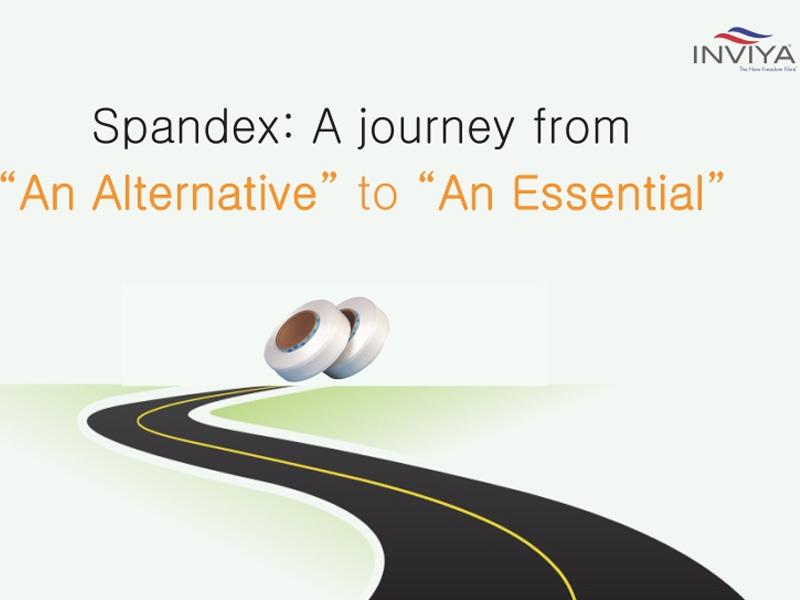 In 1956, a spark was ignited in the form of the invention of a product which was supposed to be the alternative for "Rubber" in that time of war where rubber was getting scarce and expensive; this yarn was given the name of "SPANDEX".
After a few years of its invention, the first ever use of spandex in clothing was in "Pantyhose" around 1960s. Then later in the '60s, the spandex was used in swim-wear, due to its high stretch, flexible and comfort providing properties.
Wearing garments having spandex in them by French Olympic ski team for the 1968 Winter Olympic Games, lead to various designers to use it for the garments which need functionality (mainly sportswear).
Amongst various garments where spandex was used in the '60s and 70's here are a few prominent ones: women's pantyhose, swimwear, wetsuits, cycling shorts, bra-straps, leotards, tights, aerobic wear, and athletic clothing.
Then by '80s many of the prominent designers started to use spandex in fashion clothing and out came the garments like form-fitting dresses, women's spandex bodysuits.
With the coming of 90's the spandex use boomed in the garment industry now it was used is – body-shaping foundation garments, shirts, pants, dresses, shoes were made from spandex blends. Soon it progressed into men's wear market.
Now today, with changing lifestyles and demands, customers are demanding functionality, comfort, versatility, stretch, and fashion all in one garment. So, to cater to this demand spandex use has now grown greatly over the past decades. In the 21st century now spandex is used in a varied range of textile segments, some of these segments couldn't have been thought to use spandex in the past.
Several of these segments include everyday clothing shirts, t-shirts, trousers, skirts, dresses, socks, leggings, denim, etc., apart from this spandex has also found its use in – technical textiles, bedding, medical applications, hygiene applications like baby & adult diapers, automotive paneling and sports (explained earlier)
Thus this huge shift in lifestyles and demands has led to spandex become "An essential element" in the textile sector from "An alternative element" it was invented as.