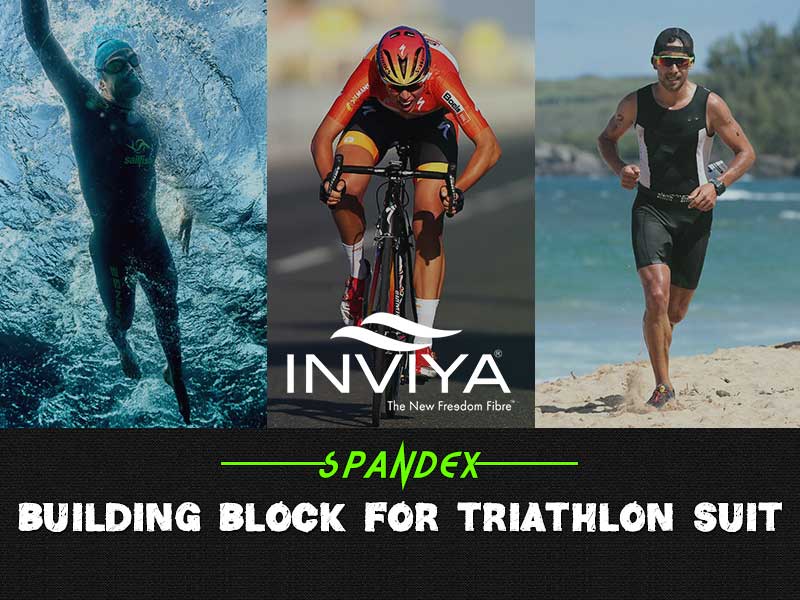 Another performance wear in which spandex plays a major role is a "Triathlon suit" or "Tri-suit". For people like you and me this is a new word out of the blue but Triathlon suit is actually a widely used performance wear and requires a lot of technicalities to manufacture.
It is a clothing item specially worn in "Triathlon" which is a sporting event which was originated in 1920's. It's an Olympic level sport; comprising of multiple-stage competition of three continuous and sequential endurance sports. There are many variations of the sport but most popular one is which involves swimming, cycling and running in immediate sequence over a distance.
The basic element (fibre) required to manufacture a triathlon suit is spandex fibre, as all the properties which are required in a triathlon suit are easily achievable by using spandex fibre in the making. The properties are as below:
Quick drying
Durable
Stretchable
Close Fitting
Chlorine resistant
Shape retention
Thus Spandex fibre which when paired up with other fibres becomes best choice for manufacturing a triathlon suit. The other fibres which are paired up with the spandex to manufacture a tri-suit are mainly Nylon and Polyester. The nylon and polyester fibre are combined with spandex fibre via knitting process, hence producing a knitted fabric used for manufacturing the tri-suit. The high-end tri-suits manufacturers primarily prefer to use nylon fibre over polyester fibre with spandex to get over-all high end product and desirable properties.