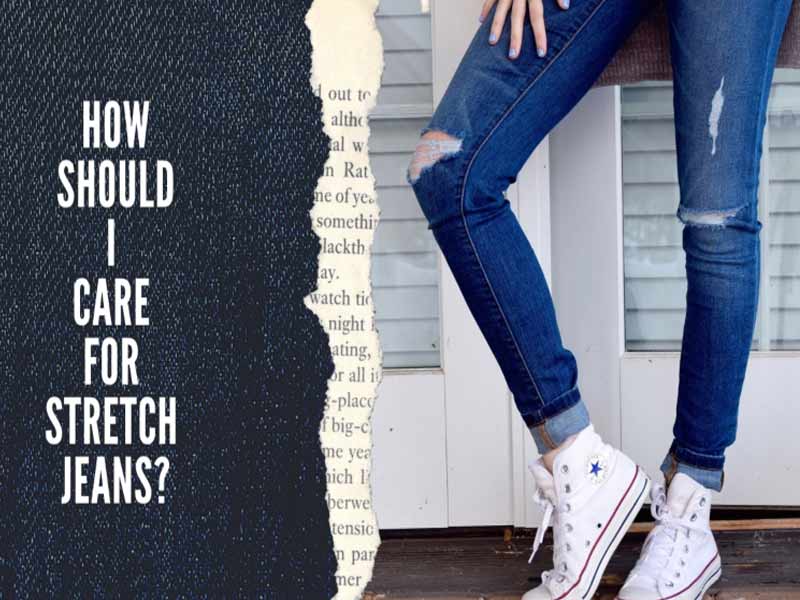 While discussing about taking care of Stretched Jeans, care is required on many fronts. Some may have a relation to Spandex used in it and some may not have relation to the Spandex used in it. Care related to Spandex is used is mentioned below:
1.Care during washing.
2.Care during hot pressing.
3.Care during storing.
Care during washing:
a) First follow the wash care label and the Symbols on it. Care has to be taken accordingly. Examples of symbols and their meanings are as under:

◦ The first image tells about the washing temperature limit. As per the given picture, up to 40°C.
◦ The second image talks about whether to use bleach or not. As per the given picture, don't use bleach.
◦ The third image talks about tumble drying condition. As per the given picture, one dot tumble dry is recommended.
◦ The fourth image talks about the ironing temperature condition. As per the given picture, 3 dot or warm ironing condition is permitted.
◦ The fifth image is about the dry cleaning instruction. As per the given picture, do not bleach.
◦ In most cases, descriptions of the labels are also printed for easy understanding.
b) Now specifically related to stretch jeans, bleach and dry cleaning is never recommended as it will reduce the power of retraction.
c) In case someone go for line dry or hang dry method instead of tumble dry, following cares are important:
◦ Don't dry under direct sunlight. This will affect the retraction power of Spandex.
◦ Don't fold it on a rope while hanging. This will create the line mark where it is folded on rope. Hang with clip for full length as per the image.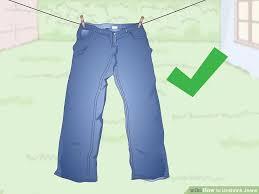 Care during pressing:
a) Follow the wash care label first for ironing temperature.
b) Don't try to remove localized crease by overheating the portion as localized overheating will reduce the power of retraction of spandex.
c) Don't use any spotting agent during hot pressing to remove stains if there on jeans as it may damage the spandex creating swelling spot in the jeans. In case spotting agent to be used to remove the stains, then wash the garment after using spotting agent, then dry and then gor ironing.
Care during storing:
a) After washing, drying and hot pressing, store on a hanger instead of folding condition. Storing under folding condition may leave a temporary fold mark appearance while wearing the jeans.
The above article does not cover about the care required related to color of jeans and its effect on other garments during washing, hot pressing and storing.