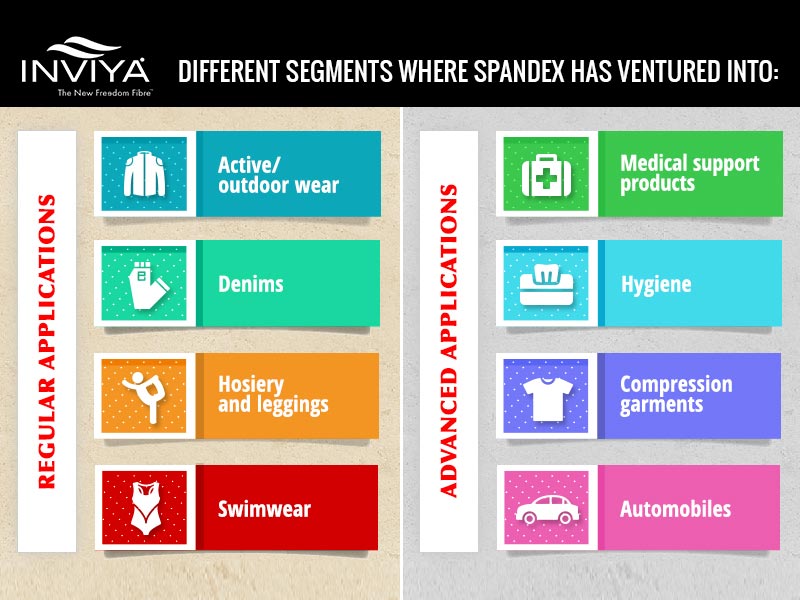 Spandex since its invention in 1956 has changed the direction of the textile industry. Developed as an alternative to rubber, spandex has completely taken over the stretch market in clothing and various other segments of the textile industry. Spandex not only gives ultimate stretch but also soft feel and desirable comfort along with required strength when paired with right fibre for multiple uses. Along with textile industry spandex has also found its various uses in hospitality and industrial industries.
From a t-shirt to automobiles spandex is used everywhere, where even a slight bit of stretch is required. Spandex was first used in making ladies foundation garments like pantyhose, stockings etc. Then it forayed into sportswear (cycling shorts etc.), dancing wear, tights, and swimwear. Then the time came of stretch denims. Nowadays with technical advances the range of use of spandex has increased more than ever.
There are mainly two types of application where Spandex is used:
Regular applications
Advanced applications
Regular applications:
They mainly include products from textile industry and specifically from apparel sector i.e. clothing. These applications include:
Active / outdoor wear
Denim
Hosiery and leggings
Intimate apparels
Ready to wear
Swimwear
Advanced applications:
They include all the segments where spandex has recently ventured into and has gained a significant ground.
1. Medical support products:
Knee or back braces
Surgical elastic bandage
Body Implant materials
Leather tube
2. Hygiene: Spandex is used in making diapers for children as well as adults
3. Compression garments:
Motion capture suits
Surgical hose
Support hose etc.
4. Sports:
Volleyballs and Soccer balls
Netball bodysuits
5. Automobiles:
Manufacture of door panel fabrics that stretch and adhere to the door
Car seat fabric
6. Footwear: to ensure that the footwear gives the wearer required fit and doesn't slag off after a while.
7. Household products:
Fitted sheets and
Micro-bead pillows etc.
8. Spandex table coverings – elastic nature of fiber ensures that the cloth is durable enough to withstand the wear that accompanies frequent use.